1. Carne Guisada Puffy Taco, Ray's Drive Inn (San Antonio, Texas)
Ray's, which first opened its doors in 1965, is known for its excellent renditions of regional standards such as hot dogs, hamburgers, and fish sandwiches. It also features more memorabilia on its walls and floors than a TGI Fridays, including a 1924 Model-T dump truck, a wonderfully rowdy jukebox, and an atmosphere that is more reminiscent of a funky roadhouse than an urban Tex-Mex restaurant. It is particularly well-known, though, for its puffy tacos.
These tacos were not created at Ray's, but the restaurant is credited with coining the term for them. They are airy, crisp, and full of flavor, while the filling, which is made of meltingly soft carne guisada (stew beef), is wonderfully seasoned and does not contain any grease at all.
2. Shredded Beef, El Parasol (Santa Fe, New Mexico)
El Parasol first opened its doors in 1958 and has since been well known for its authentic Mexican cuisine as well as its straightforward American dishes such as burgers, hot dogs, and chili cheese fries.
Even though there are only three different kinds of tacos available (chicken, ground beef, and shredded beef), these tacos are delicious! The shell is deep-fried until it is golden brown and crisp, and the outstanding shredded beef is boiled until it is coming apart before being combined with a sauce that has been a well-guarded secret for a very long time.
It's a crunchy, meaty, Tex-Mex (New-Mex-Mex?) favorite that can be topped with guacamole or salsa, whichever you choose.
3. Arabicos, La Condesa (Austin, Texas)
There is a sea trout ceviche with pineapple-aji sorbet, a roasted cauliflower "steak" with chipotle-raisin purée and chile de árbol vinaigrette, and a lump crab tostada with green mango and grapefruit, amongst other things, so it's hardly surprising that the tacos are non-standard as well. La Condesa is a modern Mexican restaurant.
For example, the Arabic tacos, which receive excellent scores for innovation and depth of taste, combine seared venison with pickled cucumber, chipotle harissa, fennel pollen yogurt, and cilantro. This combination is then wrapped in a tortilla prepared with bacon grease, which is a technique that is clearly not used in Arabic cooking. This dish is neither traditional Mexican cuisine nor Tex-Mex, yet it is nonetheless very tasty.
4. Adobada, Los Tacos No. 1 (New York, New York)
There is a taco served at Los Tacos No. 1 that is so delicious that if you dared someone to try it while blindfolded and compare it to their "go-to" taco, you could make money betting on the outcome. Los Tacos is a cooperation between three close friends from Tijuana and Brawley, California.
This is not to imply that the proprietors of this establishment are not familiar with tacos. Although you really can't go wrong with the adobo or pollo tacos here, the adobada, which is a pig that has been marinated in red chile, is the dish that takes the cake. You can even garnish your taco yourself with one of the expertly prepared salsas, which are also available.
5. Cochinita Pibil, Guisados (Los Angeles, California)
Guisados has become an essential Los Angeles taquería. It currently has five locations, but the one that started it all is in the middle of Boyle Heights and has been run by three generations of the same family, the De La Torres.
These folks know what they're doing, right down to the homemade tortillas, and they've been doing it for a long time. The Mexican dish known as cochinita pibil is a work of art. The pork shoulder is first brined in a concoction rich in citrus for a whole night, and then it is slow-cooked for about four hours before being shredded. It is a true work of art when it is presented to you topped with pickled onions, fresh cilantro, and as much habanero salsa as you can manage.
6. El Conquistador, Tacodeli (Austin, Texas)
It just wouldn't be Austin without Tacodeli, which has six locations throughout the city (in addition to two locations each in Dallas and Plano and one location in Houston). Tacodeli also has locations in Dallas, Plano, and Houston.
Their sauces, which are all produced in-house, are works of art, and the El Conquistador taco, which is one of their most popular items, is the ideal vehicle for displaying their house chile pasilla sauce.
It is the highlight of a taco that consists of slow-roasted pork shoulder that has been shredded, topped with avocado, cilantro, and onion, and wrapped in a fresh flour tortilla. You will find yourself daydreaming over this taco. Go there for lunch because the Tacodeli won't be open any later than 3 in the afternoon.
7. Chivo, Panchos Mexican Taquería (Atlantic City, New Jersey)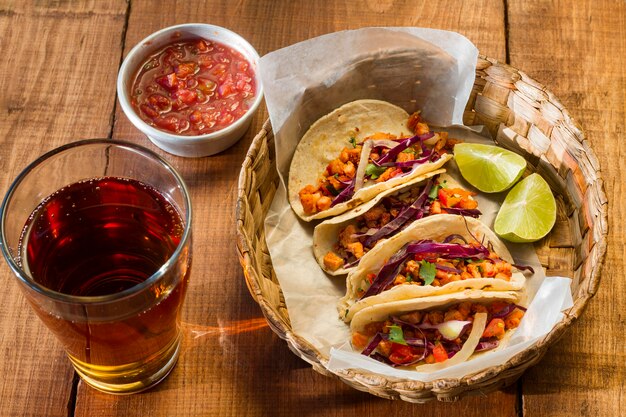 This unassuming taquera was opened to cater primarily to employees of the local casinos when it first opened its doors. However, it quickly achieved a level of local renown when chef David Chang stopped by and deemed it "the best Mexican food on the East Coast" in Lucky Peach magazine, and when legendary Philadelphia chef Michael Solomonov fell in love with it on an episode of "Vice Munchies."
Both establishments are located right next door to one another. So, what exactly is it about Panchos that makes them so delicious? To begin, rather than simply being manufactured from scratch, the tortillas are prepared specifically for each customer's request.
Second, tacos and huaraches can be stuffed with a broad variety of meats that have been meticulously cooked, including beef, chicken, brisket, goat, tripe, chorizo, and carnitas, among other options. And last, the mole poblano enchiladas that they serve are truly game-changing. Simply leave. And when you do, make sure to get the chivo, which is slow-roasted goat meat that has been shredded and served with a red chile sauce.
8. Chicken Puffy Taco, El Real Tex-Mex Café (Houston, Texas)
El Real is a restaurant in the Montrose region of Houston that serves Tex-Mex favorites including chili con carne, nachos, and Frito pie. However, we strongly suggest that you get the San Antonio Puffy Taco Plate with smoked chicken.
The restaurant is located inside a theater that has been renovated. After the shell has been deep-fried and puffed up, refried beans are spread on it, and then smoked chicken, which has been smoked whole before being shredded, is liberally put on top. The lettuce and tomato slices should be placed on top.
9. Carnitas, Taqueria Vallarta (San Francisco)
More than a dozen different kinds of meat are kept warm on a comal, which is a circular iron plate, at the popular Taqueria Vallarta in the Mission District. When you place your order, it is given a brief crisping before being placed in a warm tortilla, which is also heated on the comal.
After that, it is topped with the grilled onions or fresh onions of your choice, grilled jalapenos, fresh cilantro, and a splash of killer green salsa from a self-serve station. Choose the carnitas if you want something that is both crunchy and melts on your tongue.
10. Cecina, Papalote Taco House (Austin, Texas)
Tacos stuffed with mushrooms, hominy, and epazote or with fried avocado and black beans are popular among vegetarians in Austin. However, at Papalote, we adore all of the versions that are aimed at carnivores, most especially the cecina taco.
A more rustic relative of bresaola, cecina is meat that has been salted and cured. The cecina taco at Papalote has additional toppings such as refried beans, shredded cabbage, queso fresco, crema (a thin Mexican sour cream), and guajillo salsa, and the end result is just fantastic.